How to Prepare for the UK's New Regulations on Calling Line Identification (CLI) Data
by netnumber Global Data Services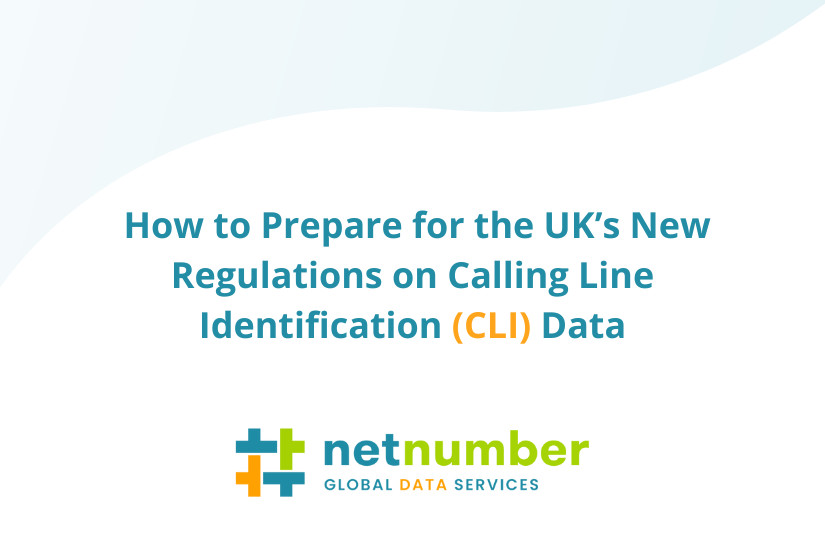 As illegal robocalling and call spoofing continue to frustrate phone customers around the globe, regulators are fighting back with new and beefed-up regulations. In the latest instance, United Kingdom (UK) communications regulator Ofcom has announced tighter rules around Calling Line Identification (CLI) data effective May 15th, 2023.
The new measure updates the (General Condition (GC) C6) rule by expanding the requirements for UK Communications Service Providers (CSPs) on CLI data accuracy. Specifically, the measure will "require providers, where technically feasible, to identify and block calls with CLI data that is invalid, does not uniquely identify the caller, or does not contain a number that is dialable," according to a statement issued by Ofcom announcing the modifications.
While a worthy goal widely supported in the telecom industry, the more stringent CLI data rules could put more pressure on CSPs while not providing straightforward guidance behind what 'reasonable' steps can be taken to identify and block bogus CLIs. Fortunately, technological advances have helped deliver advanced technology solutions that can enable CSPs to meet the new UK mandates. (More on those later).
The UK regulations are another example of government regulatory bodies strengthening rules for telecom providers in an effort to crack down on scam calls. In the United States, the Federal Communications Commission (FCC) enacted the STIR/SHAKEN regulations, a landmark consumer protection measure requiring voice service providers to take robocall mitigation steps. Under that measure, providers were mandated to file mitigation plans by June 20th, 2021.
More Changes in UK CLI Measures
Ofcom regulators also made a number of changes to CSP guidelines to comply with the updated (General Condition (GC) C6) regulation. These include:
Clarifying that the format of a CLI should be a 10- or 11-digit number;

Making use of information that identifies numbers that should not be used as CLI, such as Ofcom's numbering allocation information and the Do Not Originate (DNO) list;

Identifying calls originating abroad that do not have valid CLI and blocking them;

Identifying and blocking calls from abroad spoofing UK CLI; and

Prohibiting the use of 09 non-geographic numbers as CLI
Meet CLI Requirements with Carrier ID
To address these issues, telecom service providers need comprehensive and up-to-date phone number plan information and number portability data globally.
The Carrier ID service provided by netnumber GDS is a simple way to address the complex challenges raised by Ofcom's new CLI requirements. Carrier ID includes real-time data and information about phone numbers ported in over 100 countries and territories, which means all countries where number portability is operational. In addition, Carrier ID has phone number plan data for the entire world, so it helps validate the format of originating telephone numbers. With one given phone number, Carrier ID delivers a comprehensive set of related data elements that enable users to determine the number's properties and correctly map it to a carrier.
Carrier ID also enables service providers to ensure they charge calls terminated on their network correctly, which maximizes revenue and helps to avoid losses. Intermediary service providers benefit from the service for the same reasons.
Another important aspect aided by Carrier ID is connection speed. Voice calls need to be connected within tens of milliseconds, so latency is critical. netnumber GDS can deploy its services in 30 regions across the globe, bringing the data milliseconds away from the service providers' infrastructure. This ensures fast call routing and no negative impact on the end-user experience.
To Learn More about Carrier ID
At netnumber GDS, we've been aligning global, robust data from more than 100 countries and territories (with code range information for the whole world) into a single easy service for more than 20 years. That means fast, reliable, simplified routing capabilities and services to help you manage Ofcom's new CLI requirements or any other number issue that may arise.
Click here to learn more about our Carrier ID service or email us at sales@netnumber.com.